The following are my own 'Top 10' low maintenance plants for your garden which are freely available from garden centres and provide mostly evergreen year-round structure, with some plants flowering for many months on end.
The majority of my clients request low maintenance plants for their new garden. Whilst there are many of these plants to choose from, every garden designer has their favourite "go to" plants which tend to feature in many of their planting plans. I personally feel that plants have to earn their place in the garden, and if they are not providing a beautiful show of colourful flowers, then their shape and leaf structure needs to give interest for most of the year.
So, in no particular order, here are my 'Top 10' low maintenance plants for your garden:
Euphorbia amygdaloides var. robbiae
A spreading evergreen perennial forming colonies of rosettes of shiny, deep green, leathery leaves from which arise large rounded sprays of showy, lime-green flowers in late spring or early summer which last for months. It is one of the few plants that thrives in poor dry soil in shade, making it the perfect choice for growing under big trees. Please note that this plant is harmful if eaten and the milky sap is a skin and eye irritant.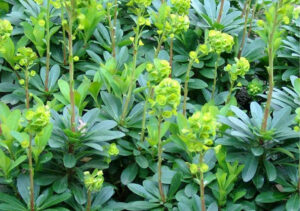 Hydrangea paniculata 'Limelight'
Native to China and Japan, Hydrangea paniculata is one of the most winter hardy of the hydrangeas, featuring dense, luxuriant pale lime green, later grading to white conical flowers, ranging from 6 to 12 in. (15-30 cm). Held upright, they are well distributed, making a very attractive plant and display. This hydrangea is suitable for full sun, unlike most others.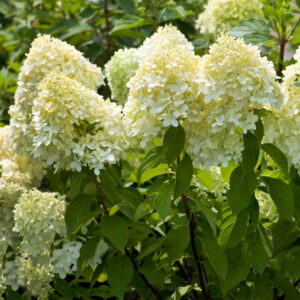 Lavandula angustifolia 'Hidcote'
Highly popular, this English  is a free flowering variety that is prized by most gardeners for its long lasting and delightful scent as well as the fashion in which its dark purple flower spikes beautifully contrast with its blue-green evergreen foliage.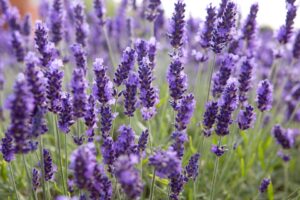 Heuchera 'Paris'
This clump-forming, evergreen perennial produces a tight mound of silvered foliage with dark green veins. Upright, 35cm tall sprays of small, rose-pink, bell-shaped flowers are produced over a long period from late spring to late summer. Lighting up the shade garden year-round, Heuchera 'Paris' is an outstanding re-blooming variety of Coral Bells.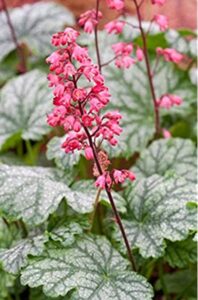 Aster x frikartii 'Monch'
One of the first Asters to bloom, this sun loving perennial plant creates a bold splash of colour over an extraordinarily long season with masses of attractive, soft lavender-blue, star-shaped blossoms, 2 in. wide (5 cm), with slender rays and golden-yellow centers. 'Mönch' is a bushy herbaceous perennial to 90cm, with dark foliage and yellow-centred, lavender-blue daisies 5cm across
Anemone x hydrida 'Honorine Jobert'
A fabulous herbaceous perennial for brightening up the garden in late summer, this anemone grows in sun or shade and has masses of elegant, cup-shaped, white flowers on tall, wiry stems from August to October. The leaves are vine-like, dark green, and semi-evergreen.
Hebe Emerald Green
'Emerald Gem' is a dwarf evergreen shrub making a compact rounded bush to 30cm tall, with upright shoots densely covered with tiny, pointed, glossy apple-green leaves, and small white flowers appearing sparsely in summer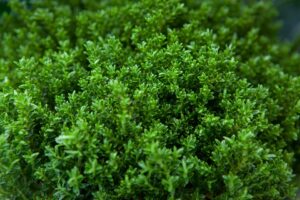 Corex oshimensis
Carex oshimensis 'is a grassy, evergreen sedge with long leaves forming a clump to 30cm in height. It makes a graceful, arching clump that doesn't spread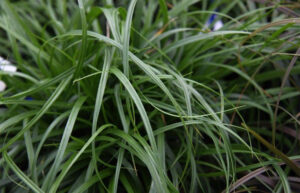 Dryopteris felix–mas
Commonly called male fern, this is a large, arching, deciduous male fern with erect, stout rhizomes and medium green blades (fronds) that grow to 1.2metres in height.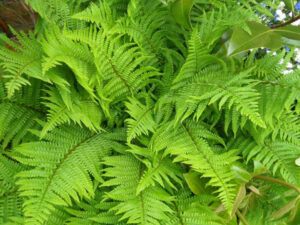 Geranium cinereum 'Ballerina'
Noted for its long flowering season, this charming small cranesbill is an herbaceous perennial which produces a profusion of slightly cupped, light pink flowers 3cm in width, heavily veined with deep purple for many weeks throughout summer.